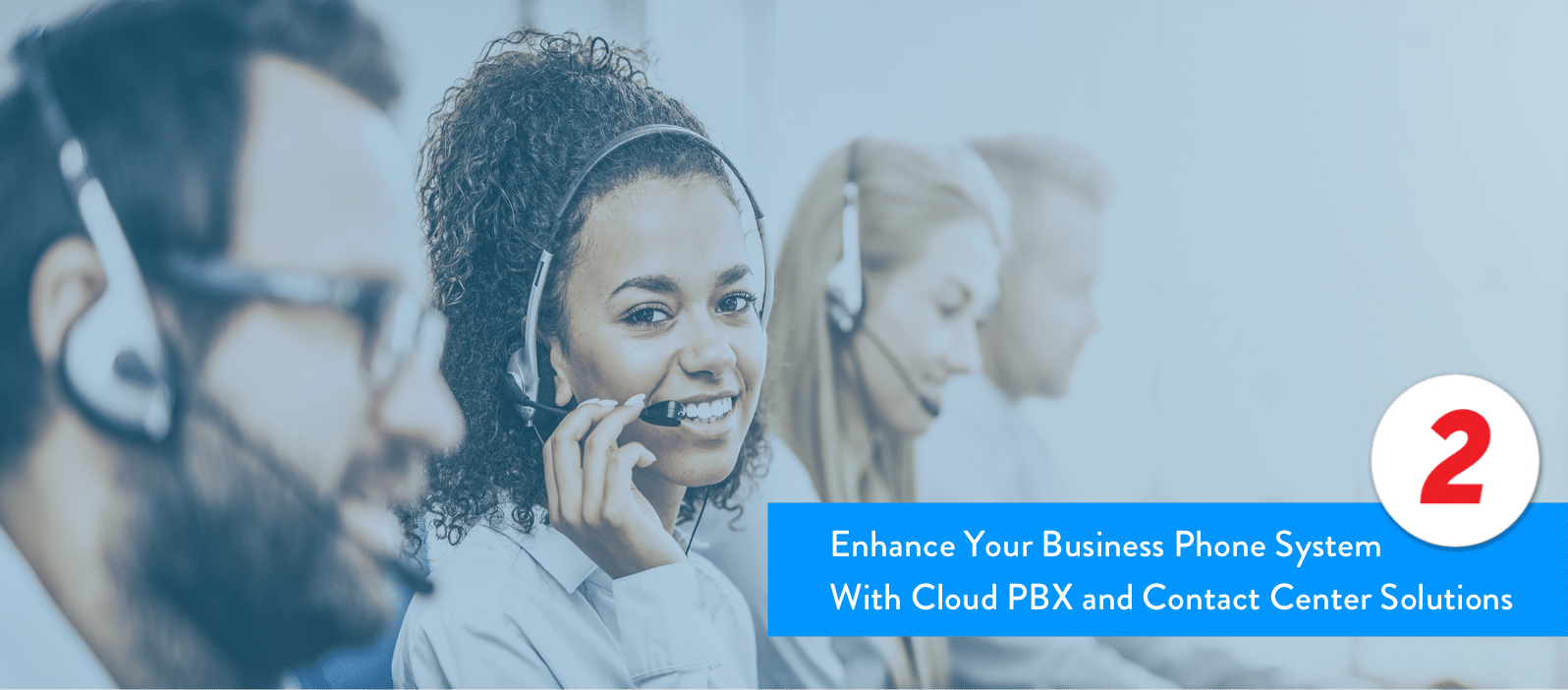 We're all after it– the perfect customer experience. At a point in the economy when the laser thing we need is an increase in attrition, we have to rely on creating positive customer experiences from the very beginning of the buyer's journey. 67% of consumers will pay more for a great customer experience, while 58% say that customer service affects the brand that they choose. Using a contact center for managing customer service is a great way to ensure that every one of your customers is treated as if they matter, and receiving the kind of quality experience that they expect.
Call center software emulates all of the features of a physical call center, without the need to invest heavily in hardware and infrastructure. In fact, cloud contact centers are estimated to be 27% cheaper than on-premise models, and experience around 35% less downtime.
By substituting a physical Private Branch Exchange for a cloud PBX, business phone systems based on cloud telephony can streamline the incoming and outgoing flow of all your call traffic, and provide improved facilities for productivity and monitoring. You can get this improved functionality either via a cloud PBX or a call center solution.
The Cloud PBX Option
A cloud PBX is a hosted communications solution which provides the same private branch exchange services as an on premise installation — but without the added cost of infrastructure management. It offers several features for streamlining your business communications.
Direct Inward Dialing or DID allows you to map several phone numbers to a single trunk line. In this way, you can allocate lines to different departments, for accurate call routing. This applies to external call routing (which improves customer service delivery), and to your internal communication channels.
Cloud PBX also includes a "click-to-call" function, which enables you to assign a phone number with one touch access via an on-screen button. You can integrate this feature on your business website, to give customers instant access to contact numbers without dialing, and internally to enable your agents to automate dialing for a quicker response.
The "find me, follow me" function allows your agents to map both their IP desk phones and mobile phones to a DID number. So when a call comes in, both phones will ring, giving the agent a choice to respond from either device. This increases agent mobility and availability.
Particularly for agents managing calls from a soft phone or IP desk phone, screen pop-ups showing the details of the caller along with their interaction history can provide information that enables your staff to deliver first call resolution to your customers.
Options like screen sharing, call transfer, and call conferencing empower your staff to collaborate with supervisors or other agents in arriving at the best solution for customer queries. With some features, this consultation goes on behind the scenes, with the customer unaware of it happening.
Cloud Contact Center Solutions
In addition to all that a cloud PBX has to offer, cloud contact center solutions integrate multiple communications channels (including phone calls and messaging), and provide sophisticated call routing, agent management, and analytics features.
70% of consumers crave a seamless process when reaching out to a brand on any of their customer service channels. Call center solutions can bring together customer outreach channels like telephony, SMS, email, social media, chat, and CRM, and integrate with your omni-channel management platform to give a unified view of your interactions with customers across all avenues.
Auto dialers with features like progressive or predictive dialing enable you to smoothly handle high volumes of outgoing calls, while Automatic Call Distribution or ACD can route calls to your agents based on different criteria, such as skill based routing, or individual caller preference. 86% of customers will continue to deal with a customer service agent that they are emotionally connected to, so this kind of functionality nurtures and maintains customer relationships.
The net2phone Call Center Seat includes Unlimited Agents & Supervisors, Unlimited Queues, live call recording, skills based routing, real-time reporting, and features like Barge/Whisper/Monitor for collaboration and management. In addition, net2phone's Remote Call Center Plan enables your customer service and technical support teams to work from home with robust functionality — especially important during the current pandemic.
Stay tuned for more news on cloud contact center options from net2phone. In the meantime, check out our partnership with Five9.