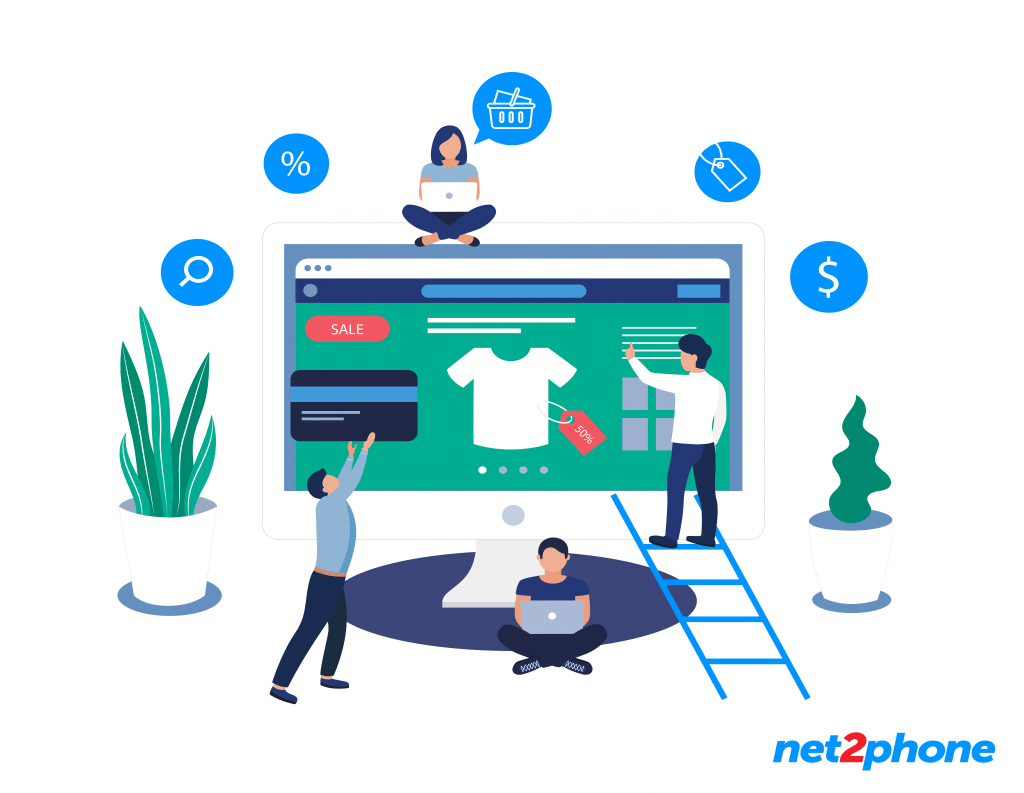 Ecommerce is expected to see increases of up to 35% this holiday season. Retail customers are fully prepared to do most of the work in identifying and assessing the products they buy — but do it online. With the power of the Internet literally at their fingertips, they have a world of information and resources, enabling them to do so. Considering the importance of this particular holiday shopping season (thanks to the ever-present influence of COVID-19), retailers of all sizes need to start planning retail communication strategies now.
COVID's Effect on Planning Retail Communication
According to a SYKES survey, nearly 44% of consumers won't feel comfortable shopping in person until they feel that COVID-19 is under control in the country or their area. 25% are holding out for a vaccine. With buyers relying on remote and digital methods of purchasing and delivery, now more than ever, you need a simple and seamless customer journey.
Using digital technologies, you can create new and memorable shopping experiences that don't require customers to expose themselves to the risk and inconvenience of a physical store. Retail phone systems using cloud-based Unified Communications as a Service (UCaaS) and Contact Center as a Service (CCaaS) solutions can provide numerous benefits, such as:
Better call quality, increased system reliability, and lower costs

Enhanced customer experience

Improved internal communications, with more efficient use of human and IT resources

Greater flexibility, and the ability to scale
Planning Retail Communications for New Fulfillment Models
Online research, reviews, video, and price comparisons enable today's customers to learn about products and services from web resources and other consumers, long before they have to engage with your actual brand.
Whether it's a physical store or a web portal, your retail outlet is now increasingly acting as the final destination in the customer's shopping journey. Success this holiday season will hinge on how well you handle omni-channel customer communication, Buy Online Pickup in Store (BOPIS), and COVID-friendly fulfillment models. The PowerReviews Holiday Consumer Survey reckons that 55% of consumers will use curbside pickup more this year than they did in 2019.
Your business phone systems and unified communications tools will be working full out to make sure that the items shoppers desire are always in stock, that there's help and expert guidance available, and that the purchase and check-out processes are seamless and quick.
Virtual Challenges to Customer Communication
Before buying, most consumers still have the urge to sample goods, try on clothing or cosmetics, and to see and engage with the items that interest them. Online shopping often disappoints in enabling buyers to physically experience a product. Nearly 6 in 10 (59%) of respondents to the PowerReviews Holiday Consumer Survey say they are concerned about whether items will fit. 58% say they miss not being able to touch or feel products, and 56% say they didn't know whether the item that's delivered will look the same as advertised online.
For you, the challenge is to recreate the in-store experience digitally, informing and supporting your customers at every aspect of their journey. Retail phone systems with integrated unified communications can help you do this.
Using a live chat facility for example, you can quickly answer questions from customers directly from your retail site. With an integrated mobile app, you can send multimedia text messages, answering questions or transmitting pictures, to enhance your customer service. And using a secure video conferencing system, you can create a personalized virtual shopping experience for your customers, which they can enjoy from the comfort of their own home.
For retail organizations, net2phone offers a state-of-the-art desk phone, a robust mobile app, and Huddle (a cutting edge video conferencing platform) to elevate your communication with your customers. Robust analytics provide rich performance-based data, to help you maximize efficiency within your retail store.
Learn more about net2phone's retail communication benefits.