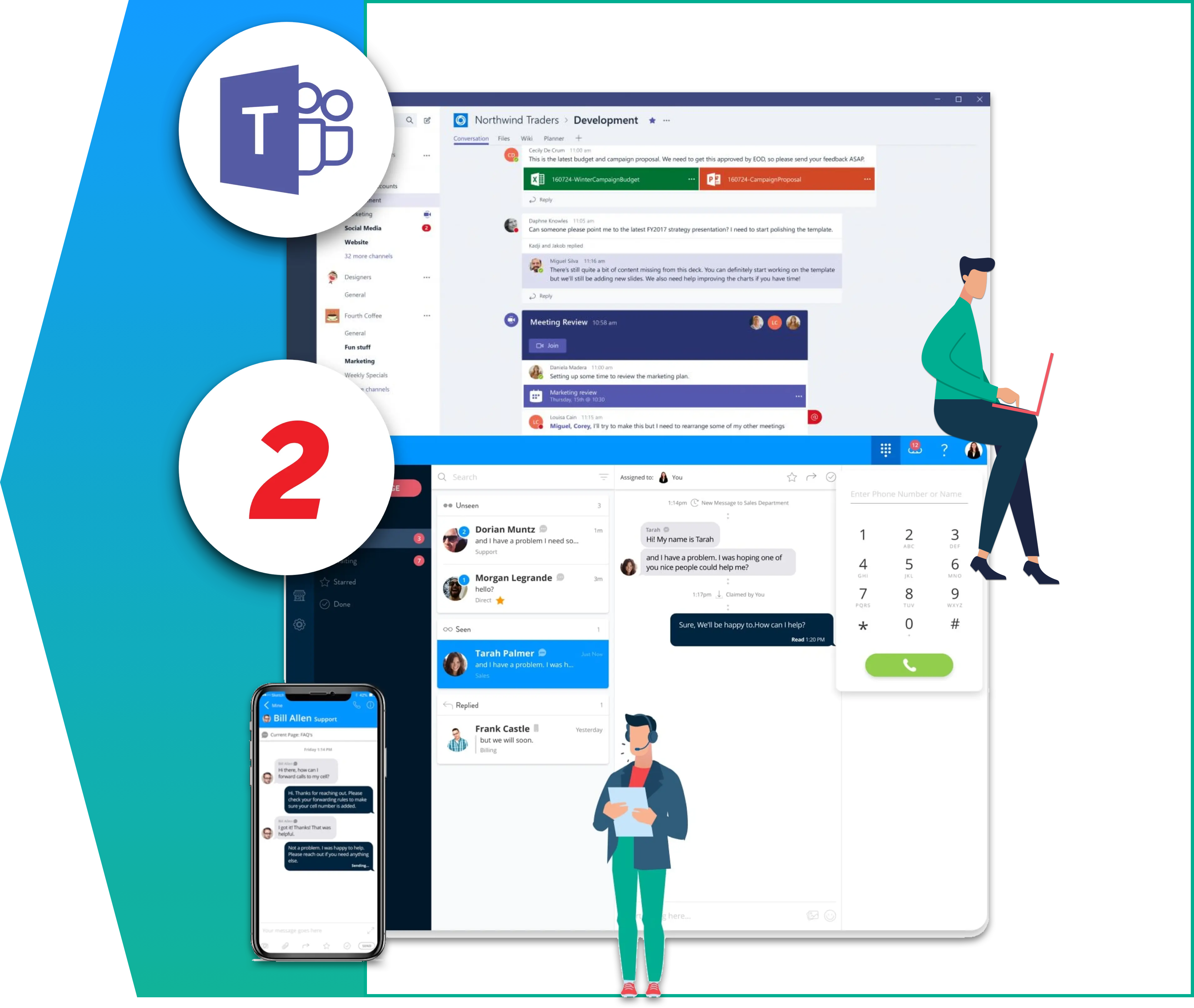 2020 was a big year for Microsoft Teams. As the COVID-19 pandemic swept across the globe, organizations of all stripes – from retailers to accounting firms, financial firms, law offices and technology companies – needed to make a quick shift to virtual offices to support remote work. MS Teams was one of the greatest beneficiaries of the upheaval, its usage skyrocketing from just 13 million daily active users (DAUs) in July 2019 to 75 million in April 2020, before climbing another 53% to 115 million in October.
(Image source: office365itpros.com)
Adding more than 100 million DAUs in just 15 months is an enormous feat for Microsoft – and comes directly from people needing to work from home and take advantage of remote collaboration tools such as audio and video conferencing. According to Microsoft CEO Satya Nadella, "Microsoft 365 users generated more than 30 billion collaboration minutes in a single day [during Q3 2020]."
As the pandemic continues, the number of users is undoubtedly still growing – and larger enterprises will have been pleased when, also in October, Microsoft increased the number of members in an org-wide Team to 5,000. According to VentureBeat, the number of companies using Teams increased from 50,000 in 2017 to more than 500,000 last year.
(Image source: venturebeat.com)
In response to customer demand, Microsoft added a host of new features and improvements to make MS Team even more valuable for the enterprise. These include: the Microsoft Whiteboard – allowing meeting participant to work together on an "infinite canvas" directly in Teams; Data Loss Prevention (DLP) in chats and conversations; Live Events – allowing users to create on-demand events for employees customers, and partners; AI noise suppression – automatically removing unwelcome background noise; and Polls in Teams Meetings – allowing meeting organizers to prepare, launch, and evaluate polls before, during, and after meetings.
Enhance Your MS Teams Experience and Save Money with the net2phone MS Teams Integration
If your organization has Microsoft 365 – as over 650,000 companies in the US do – then you have access to MS Teams and all the fantastic collaboration features that are constantly being rolled out.
You may be using it already. Either way, net2phone has an MS Teams integration to make the experience even better for your workforce.
Telephony still plays a crucial role in business communications. However, Microsoft is not a telecoms provider – yet. In the rush to facilitate remote work, many organizations have started using Teams for everything, including as their business phone system with Microsoft serving as their PBX. The trouble is, using Microsoft as a phone system is by no means the most cost-effective solution.
Microsoft charges full price for every user on Teams, regardless whether they use it or not. All calling plans are metered and capped as a "bucket of minutes – as opposed to being unlimited – and overage charges apply if a user goes over their allotted bucket. Per-minute charges must also be paid when sending calls off-network (such as to a cell phone or an after-hours/emergency call center or answering service). In addition, many advanced Unified Communications (UC) features are lacking from the platform – and those that are provided such as call queues, hunt groups and auto attendants incur an additional cost for each. This can add hundreds of dollars to your bill just for basic UC features.
In short, MS Teams excels primarily as an internal communications tool. By integrating Teams with a comprehensive UCaaS solution like net2phone, however, you can make those communications external, thereby expanding the functionality of the platform and its value to your enterprise. Unlike Microsoft, net2phone is a VoIP provider with more than 30 years' experience in the voice space. Our solution includes completely unmetered unlimited domestic and international calling to over 40 countries and does not limit the user to a bucket of minutes. In addition, all of our unified communications features are included for no extra cost. These include unlimited auto attendants, US based support and free training, unlimited hunt groups, unlimited call queues, video conferencing with dial in, SMS/MMS texting, web and mobile apps, call recording, and more. net2phone treats all customers with white glove service. This means that you'll get a dedicated project manager, technical engineer, and free porting. We've got you covered. Plus, with simple pricing along with easy configuration and expanded range of options – there's no better way to enhance the MS Teams experience than with the net2phone integration.