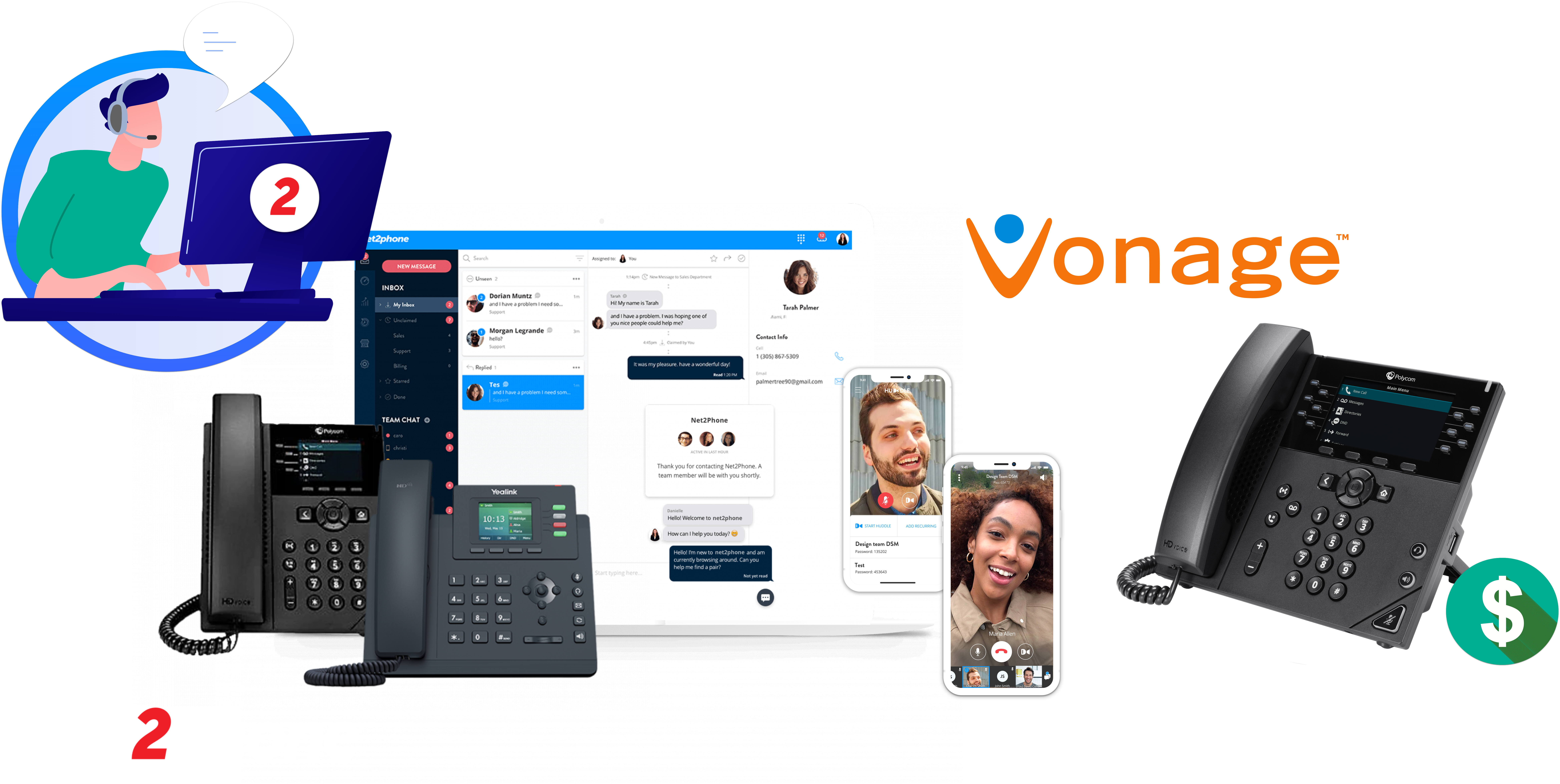 We know--You have options when it comes to your business communication tools. The question you have to ask yourself is: "Am I using the right business communications or phone system tool?" If you're a Vonage customer, you may be rethinking your contract.
1. Simplified Unified Communications Pricing
Let's start with what matters most--Cost. We know it's a touchy subject and we want to reassure you it's top of mind for us at net2phone too. net2phone wins against price almost every time. Our pricing model is simple and is based on how many users you need based and the features you want included. net2phone also offers six different options as opposed to only three by Vonage, all of which are lower than those of Vonage. The wide range of supported platforms naturally means that net2phone's service options come with a wide range of features that include browser extensions, mobile apps, and integrations with MS Teams, Salesforce, Zoho, Slack, and much more depending on the plan you choose.
net2phone, also includes free unlimited calling across North America and over 40 International countries.
All the extra features that make day-to-day working simpler like visual voicemail, ring groups, DID numbers, call recording and others are included with net2phone (depending on your plan). And you guessed it! That's extra with Vonage. net2phone gives you what you need without hidden fees.
Free Trial
While Vonage offers a free 14 day trial of its unified communications solution, net2phone has an entirely free tier for video conferencing and complimentary 45-minute meetings (n2p video plan) and upon request, can offer a free 30 day trial on any of our other plans.
2. Free Business Phone Rentals vs Purchasing Hardware
net2phone offers business phone rentals included in our business communication plans whereas you would have to purchase those phones outright through Vonage. Depending on our current promotion, you can even strike a deal to upgrade your phones for free at net2phone.
3. Dedicated Onboarding vs Self Service
One of the beautiful things about net2phone is that we give every customer the white glove treatment. Once your organization signs the agreement, Vonage would have you do it yourself and offers little guidance along the way . Not at net2phone. We provide a dedicated onboarding specialist to help you set up your unified communications system, all departments and users, even your welcome greetings and ring groups! Plus, our business phones come pre-provisioned to the exact settings you need, so all you have to do is plug them in, and you're up and running . There isn't any guess work. We work directly with you from the start to ensure your system is set up how you want, when you want. We also offer free, on-demand training for all of your users and have a variety of video tutorials and guided platform assistance to help get you started.
4. A Better Customer Experience
It's bound to happen. At some point, you're going to need to talk to support. You may need help changing some features or settings or have a question regarding your account. Unlike just about every other provider, net2phone's support technicians are here in the States, are full time net2phone employees, and all are using the same system and same phones you are, so they're super knowledgeable and ready to assist. We're available via text, email, live chat, and of course phone call. You'll get a live person who is actually part of the net2phone team to help answer any questions you may have. If you need to reach Vonage technical support (and you will), you'd have limited access to Tier 2 support , which is outsourced agents who are not familiar with the US network or the Vonage systems. Plus, your only option for support is through chat unless you're a larger customer. You deserve more than that, don't you think?
At the end of the day, we're slightly biased. Who wouldn't be - working for one of the fastest-growing Unified Communications providers, with advanced business VoIP phone systems, all inclusive cloud PBX features, and streamlined UCaaS solutions in the US - and with a global presence? We realize that we can only grow if we provide an amazing experience in the business communications space. But don't take our word for it. See what UC Today said about our growth and how our customer-first culture permeates throughout. Combine a better business communications experience with affordable prices and features that simplify life for employees and you have a winning combination.