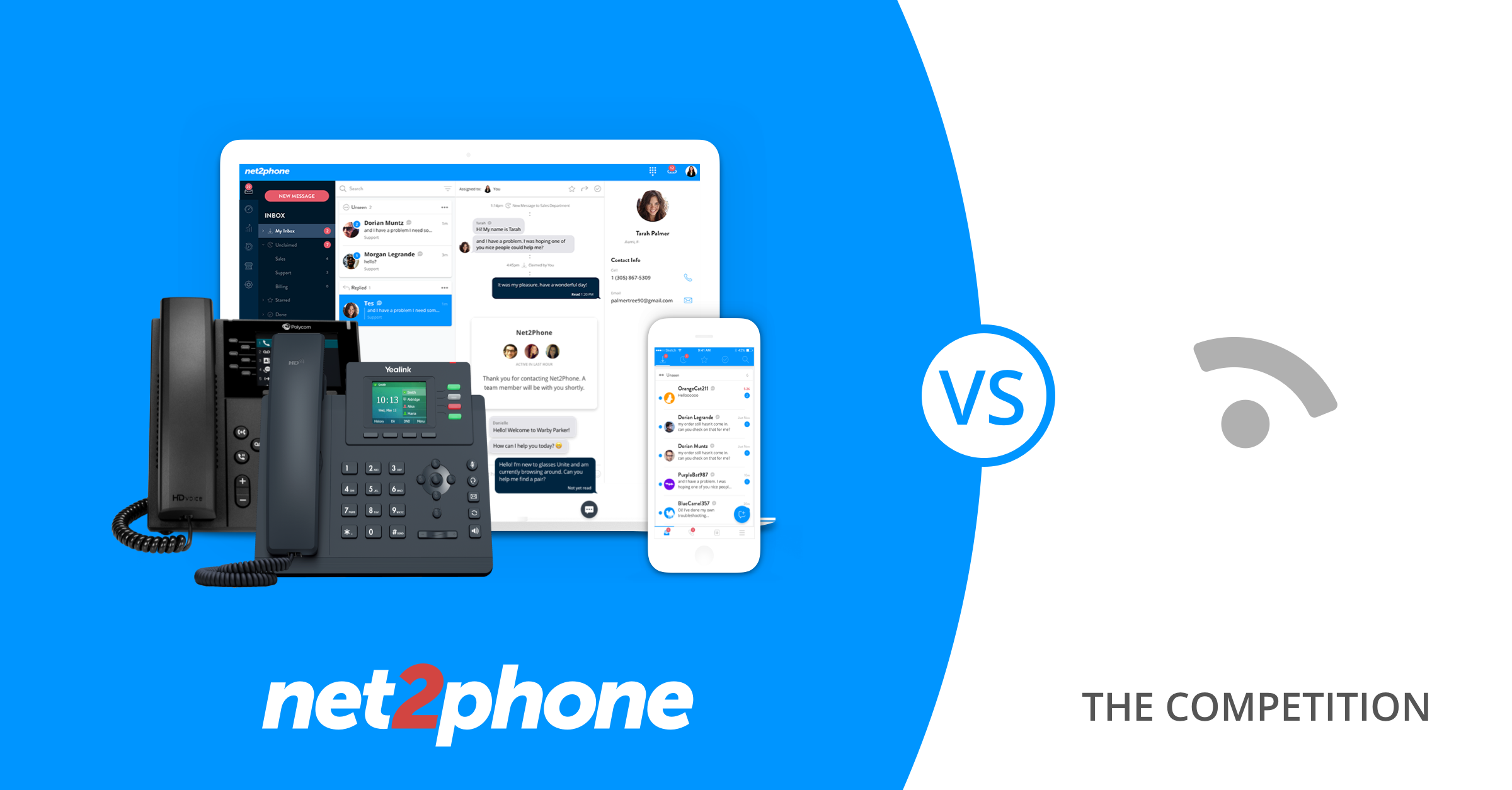 We know you have your pick of unified communications providers. RingCentral is probably on your list. While they've been around since 1999, their history and suite of services compared to net2phone's homegrown solution and 30+ years in business...well, you decide for yourself which you'd prefer.
Here are five compelling reasons why you should choose net2phone over RingCentral.
RingCentral Pricing vs net2phone
RingCentral's VoIP, cloud PBX, and Unified Communications solutions are almost double the cost of net2phone. Our pricing starts at $17.99 per user per month for up to 99 users, while RingCentral starts at $29.99 per user per month for up to only 20 users. You would think that RingCentral offers more features due to the higher cost, but this isn't the case. net2phone offers over 40 advanced features to our customers that I'll outline in more detail in a few.
Furthermore, while RingCentral offers a free trial that requires you to sign up with a credit card, they do not have a free tier. net2phone has a free plan option that comes with free 45-minute video conferencing. No gimmicks. No requirements.
Features
net2phone offers superior VoIP, cloud PBX, and unified communications feature all at a lower price when compared to RingCentral. For example, the n2p Professional Plus package costs $25.99 per user per month for up to 99 users. This package includes automatic call recording, call storage, skills-based routing, live chat (Widget), call queues, and VMT (voicemail transcription) that RingCentral's pricier Essential plan does not offer.
In addition, net2phone offers Reporting and Analytics in their n2p Virtual plan that only costs $17.99 per user per month for up to 99 users, while RingCentral offers this feature in their Premium package for over double the price at $44.99 per month. There is no debate about who offers better value for money.
Compatibility Issues
Many users have reported experiencing buggy RingCentral performance while using the Chrome browser. The main problem has to do with trying to join a meeting via a link sent by the meeting convener or participant. This issue affects many customers because Chrome has over 60% market share of the global browser market. In contrast, net2phone has a Chrome browser extension that ensures seamless operation.
Overly Complicated for New Users
For new or novice users, RingCentral's admin portal is a bit of a steep learning curve. Users find it complicated and confusing. In contrast, net2phone has a simple user-friendly portal with wizard-like functionality that allows users to seamlessly use our advanced features.
Business Phone System Hardware
n2p Essentials Plus and all superior net2phone packages come with hardware included. In contrast, RingCentral does not offer any hardware with any of their packages. In addition to paying more, you also have to shell out more money for phones and other necessary hardware.
All things considered, RingCentral Office is more costly to implement than net2phone and with net2phone, you are getting excellent features and reliable customer support. Find which n2p plan is right for you and your team as net2phone offers flexible pricing plans that fit every need and budget.