March 31st, 2021
Huddle Reactions
Engage and interact during presentations and huddle meetings live without interrupting the conversation. Now, you'll be able to wave 👋 hello or goodbye, 🔥 react when you see something impressive, or simply show some love ❤️! These Huddle reactions are unlike any other video conferencing platform out there as they are entertaining, intuitive, and engaging.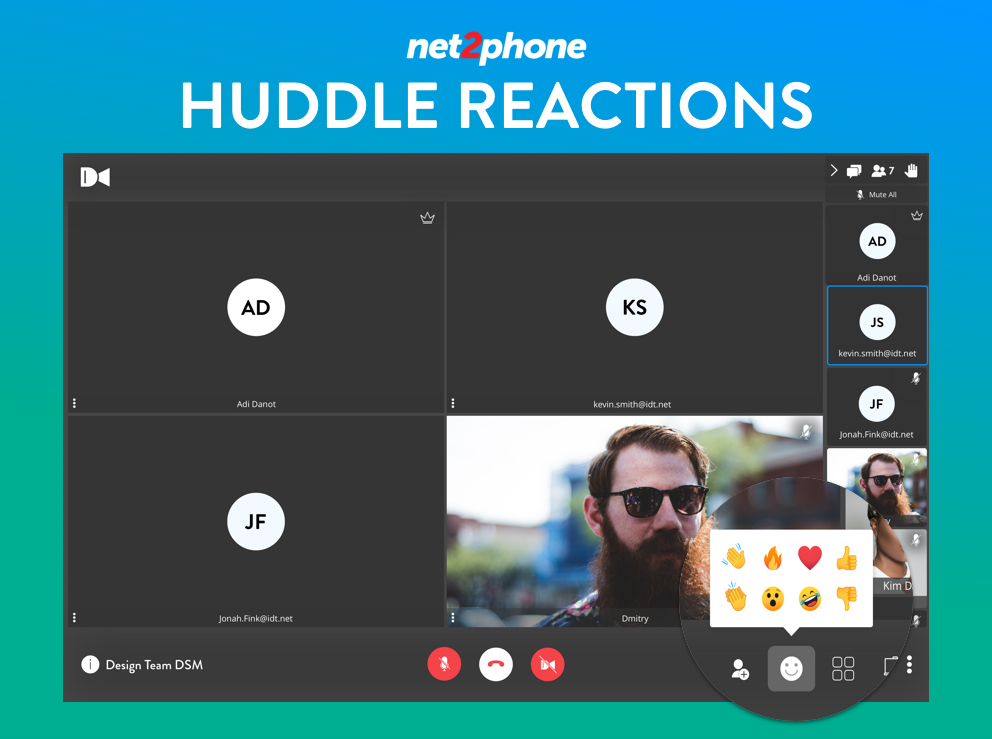 See Huddle Reactions in action....

Huddle Blurred Background Feature
Busy background? No problem! net2phone Huddle now offers a blurred background option that allows you to block out all the background distractions. Simply go into the "more actions" section at the lower right-hand side of your huddle and select "Blur background."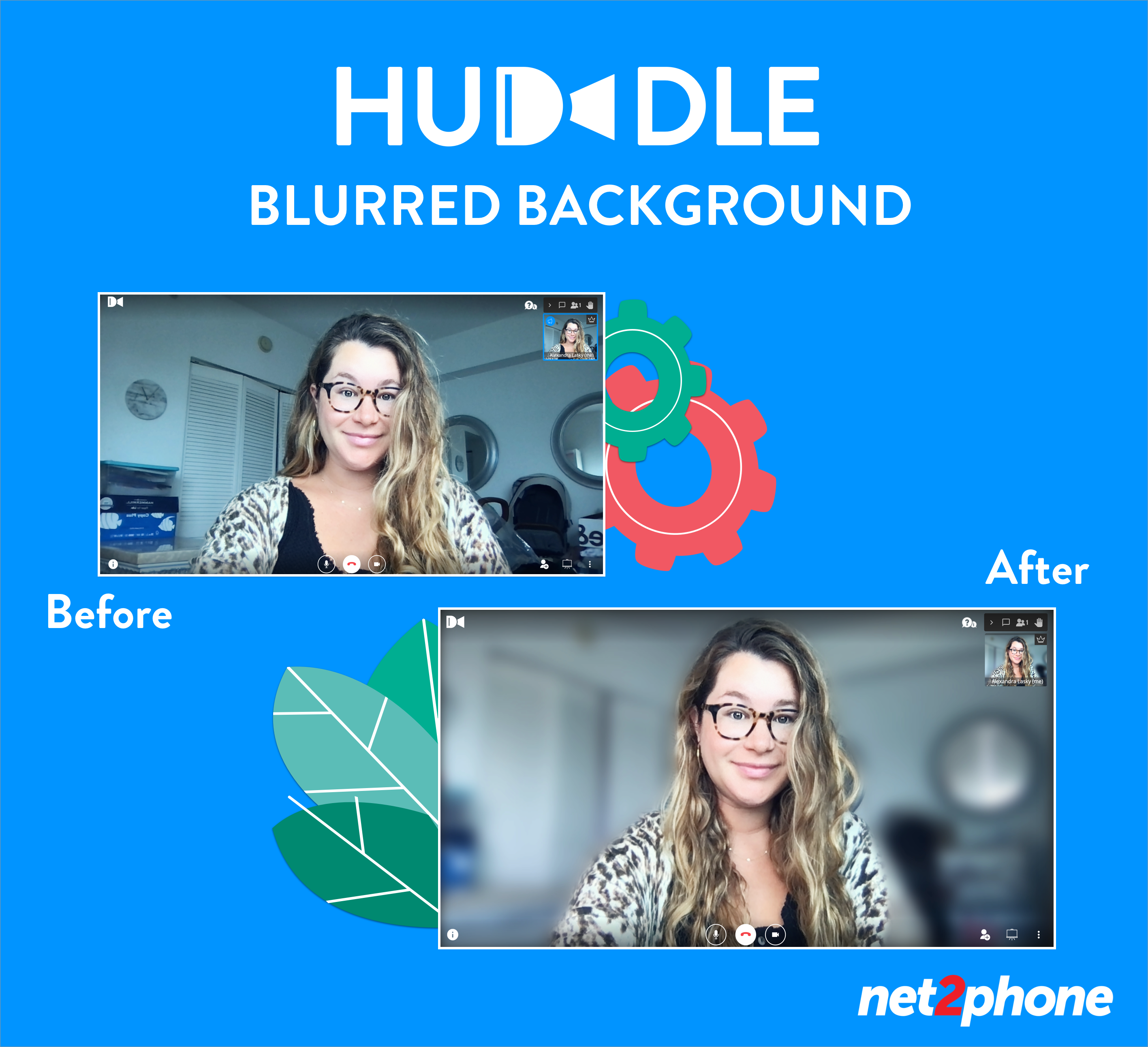 March 2nd , 2021
Google Workspace Authentication
At net2phone, we're making life easier for you by introducing Google Workspace Authentication (formally known as GSuite) for a simple and efficient sign-on into your net2phone account.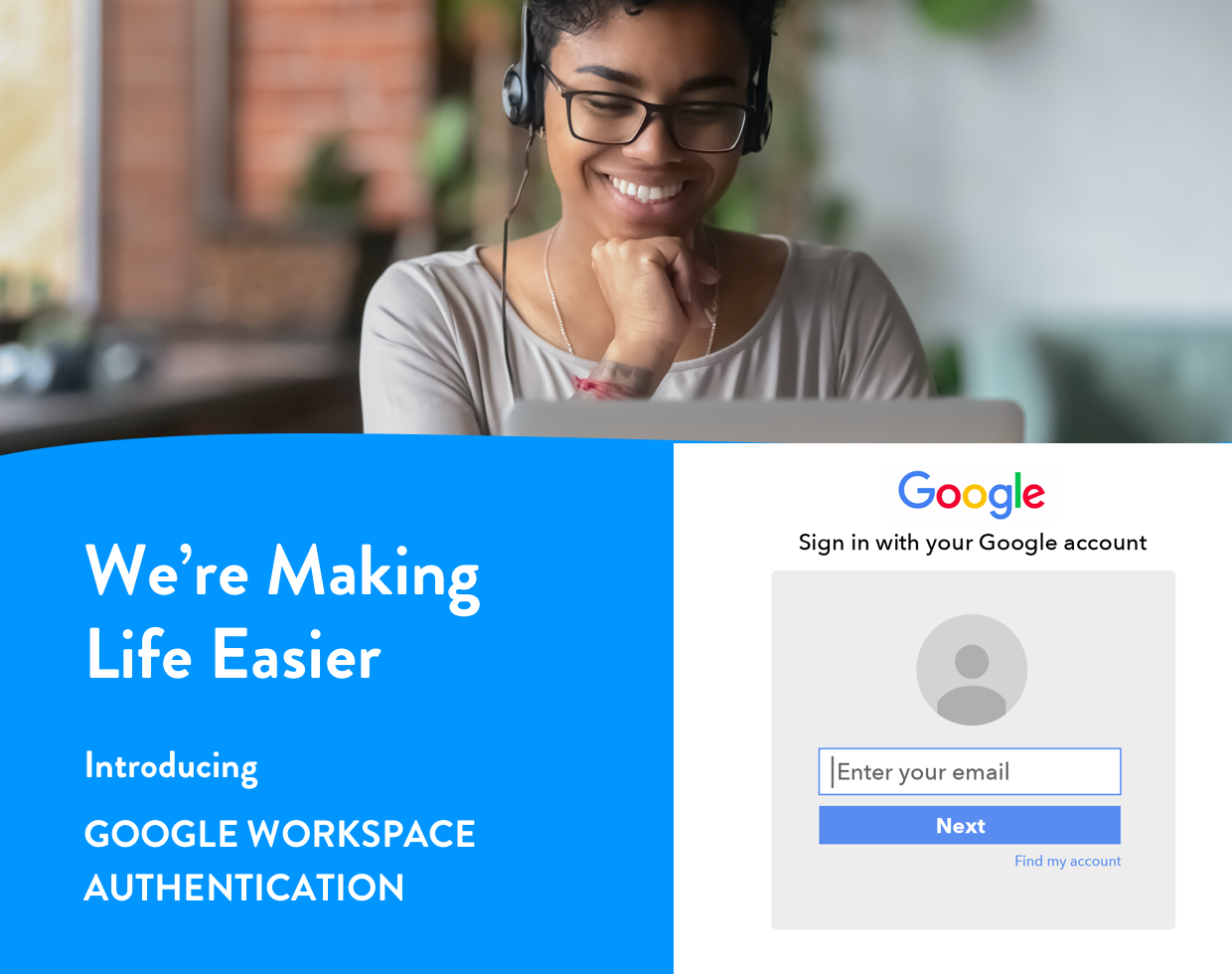 February 25th , 2021
Three-way Calling
We are excited to announce the introduction of 3-way calling to the web dialer! Now within the net2phone portal, you are able to make 3-way calls directly from the web dialer.

February 17th , 2021
RCon, net2phone's Receptionist Console:
net2phone's cloud PBX phone system now has a fully compatible web-based receptionist console called RCon. RCon is a dedicated web application specifically designed for people (commonly known as Receptionists or Operators) who handle a large volume of calls. Seamlessly stay connected through VoIP, and streamline contact searches and efficiently route calls with net2phone RCon.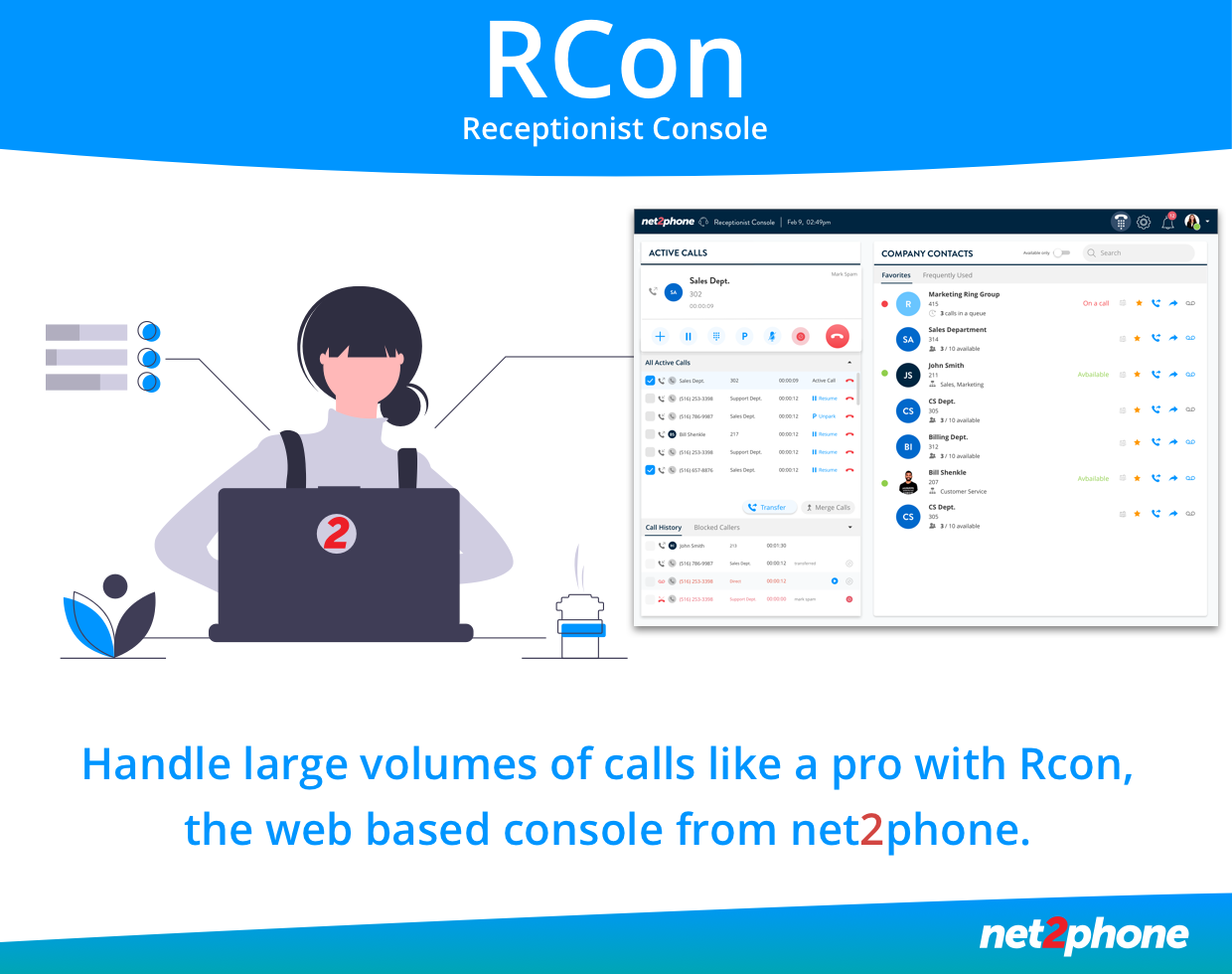 February 10th , 2021
The net2phone Salesforce Integration:
Our unified business communications solution just made it easier to communicate with your leads with our net2phone Salesforce integration. Salesforce can increase productivity and give you greater visibility into the status of opportunities and support calls using our cloud PBX phone system. Quickly and easily update and organize your Salesforce records in just a couple of clicks. Seamlessly stay connected by focusing on one tool where you can make and receive VoIP calls and keep track of essential details with rich call records that automatically integrate into Salesforce.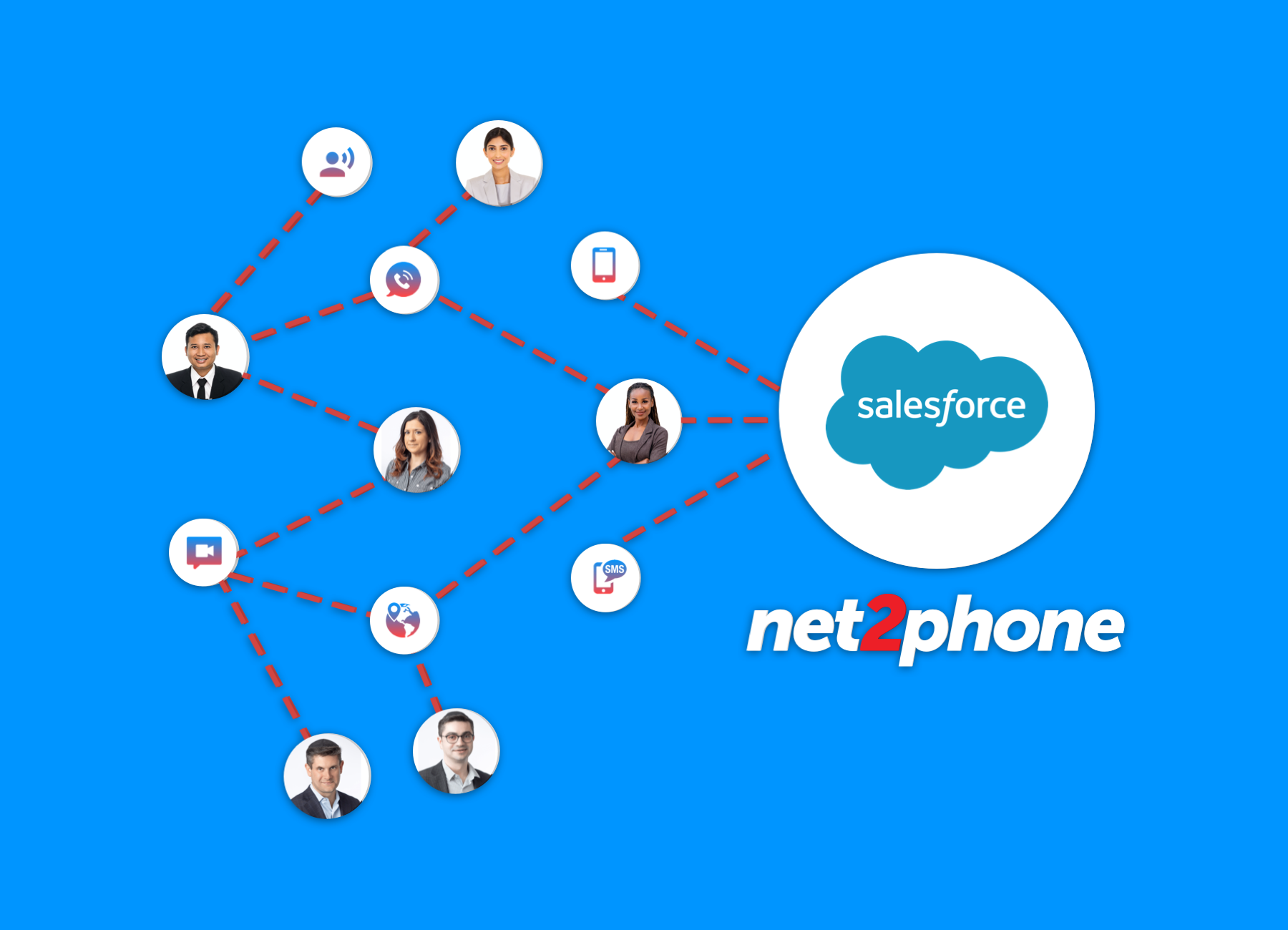 January 29th , 2021
Huddle Participant Preview
Huddle now lets you see who is in the room before you join! You can also preview your camera and mic settings and make any adjustments before entering the room.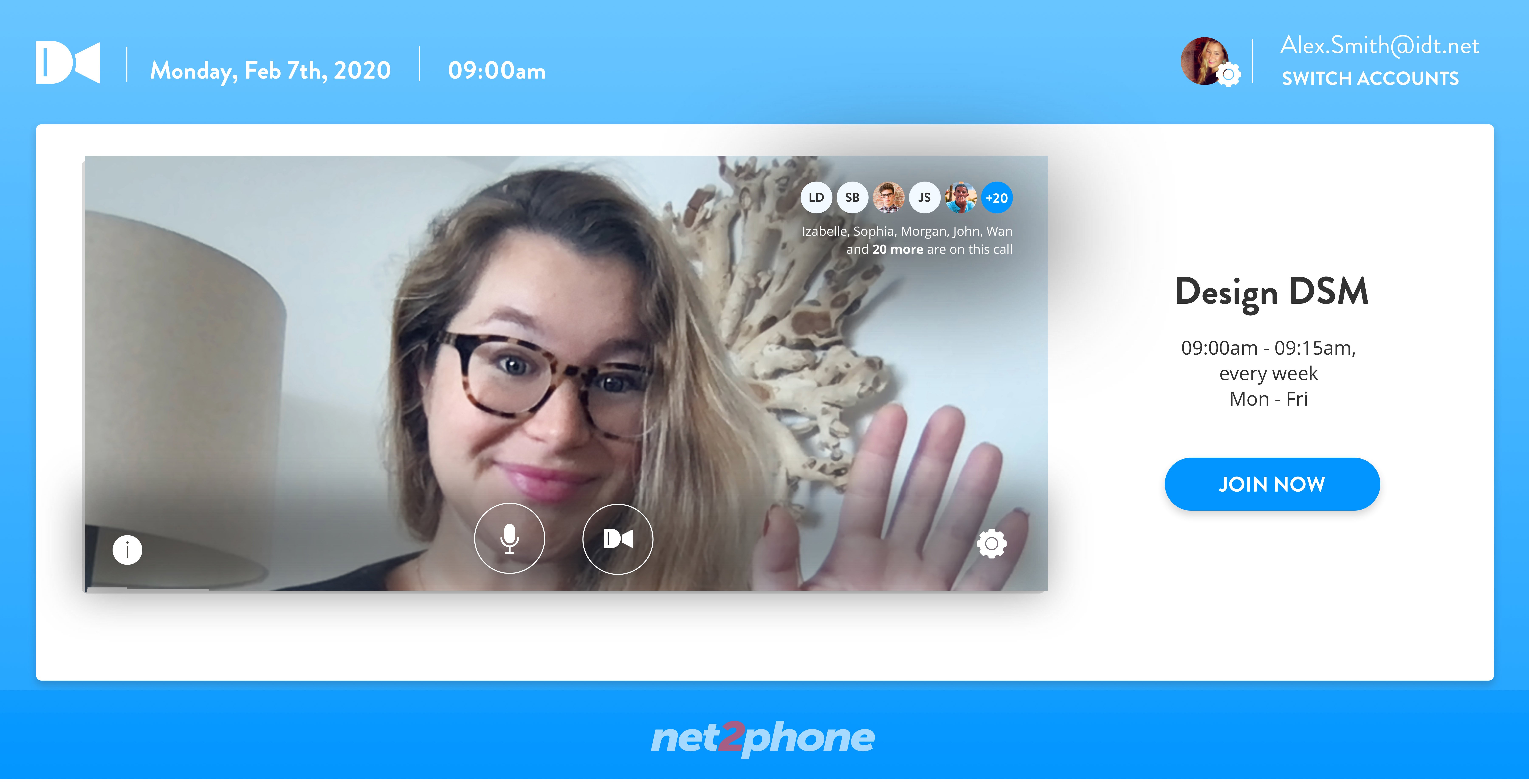 January 12th , 2021
SSO (Single Sign-on)
SSO, also known as Single Sign-On, allows our users that are logged into net2phone (app.net2phone.com) to also automatically be logged into Huddle (and vice-versa). Prior to this release, you needed to login separately on both. Now, just log into one and you'll be all set on the other!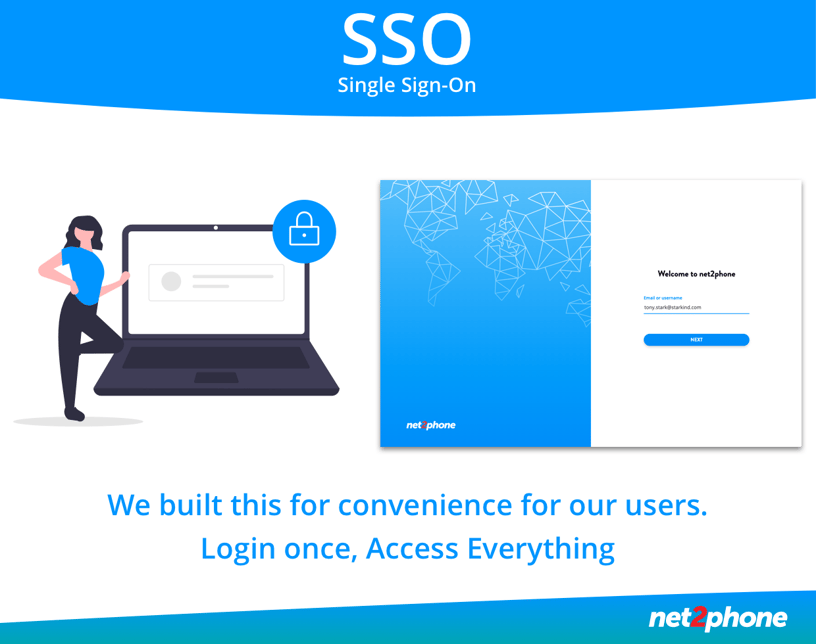 November 30th, 2020
net2phone Huddle Recording
Now you have the ability to record your Huddle meetings and reference later at your convenience or share with other members of your team.
To access this feature, you can click on the bottom right "3 dots" menu and then click the Start Recording button. You will then be prompted to connect to your Dropbox account. If you don't have a Dropbox account, you can sign up for a free version on the Dropbox website. Once the accounts are authenticated, the user can then start recording through net2phone Huddle.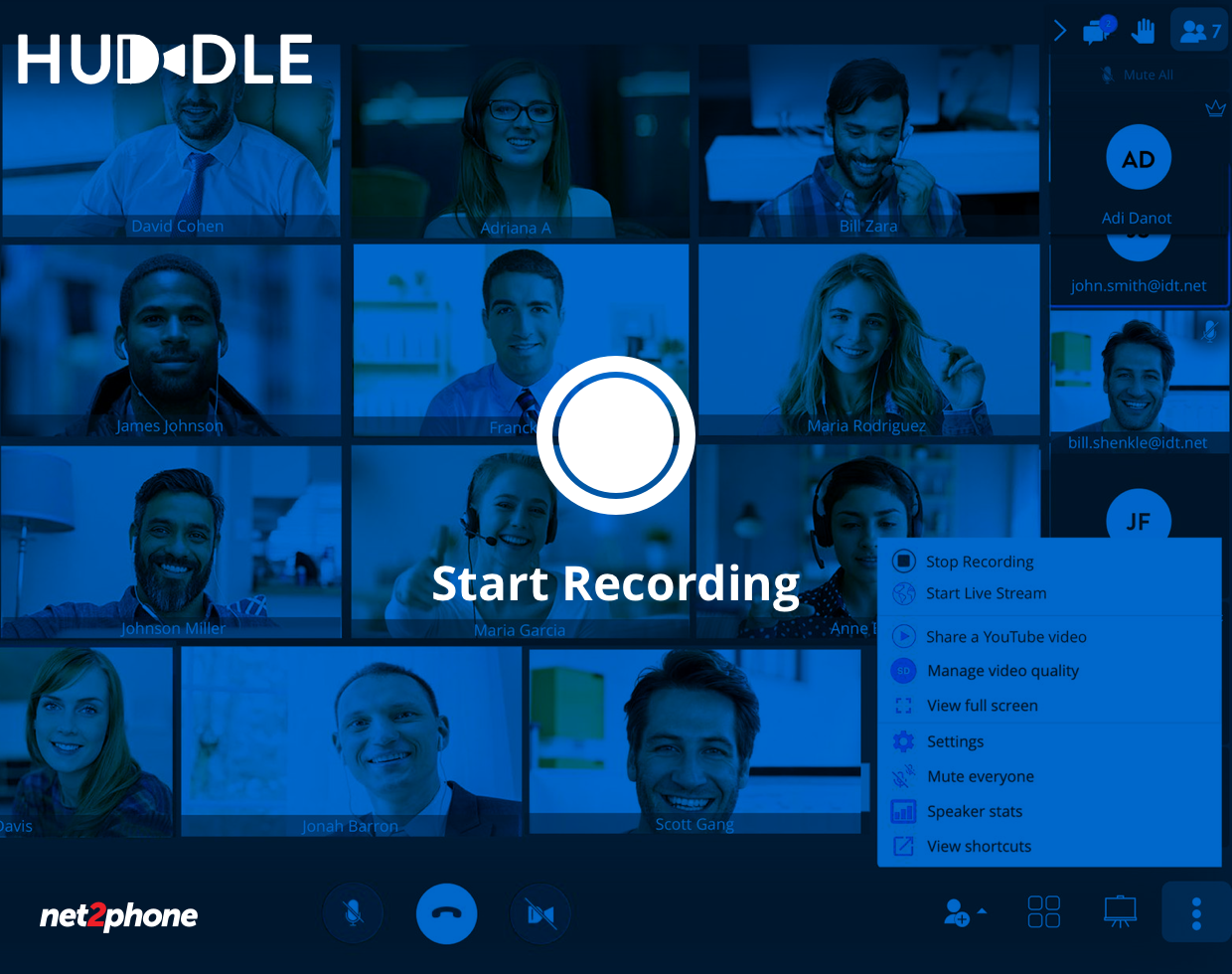 net2phone Huddle Dial-Out
Huddle Dial-Out allows Huddle Users to add people to a Huddle meeting via a call by entering the desired phone number. This makes it more convenient for everyone as all you have to do is simply type in the number of the person you wish to call.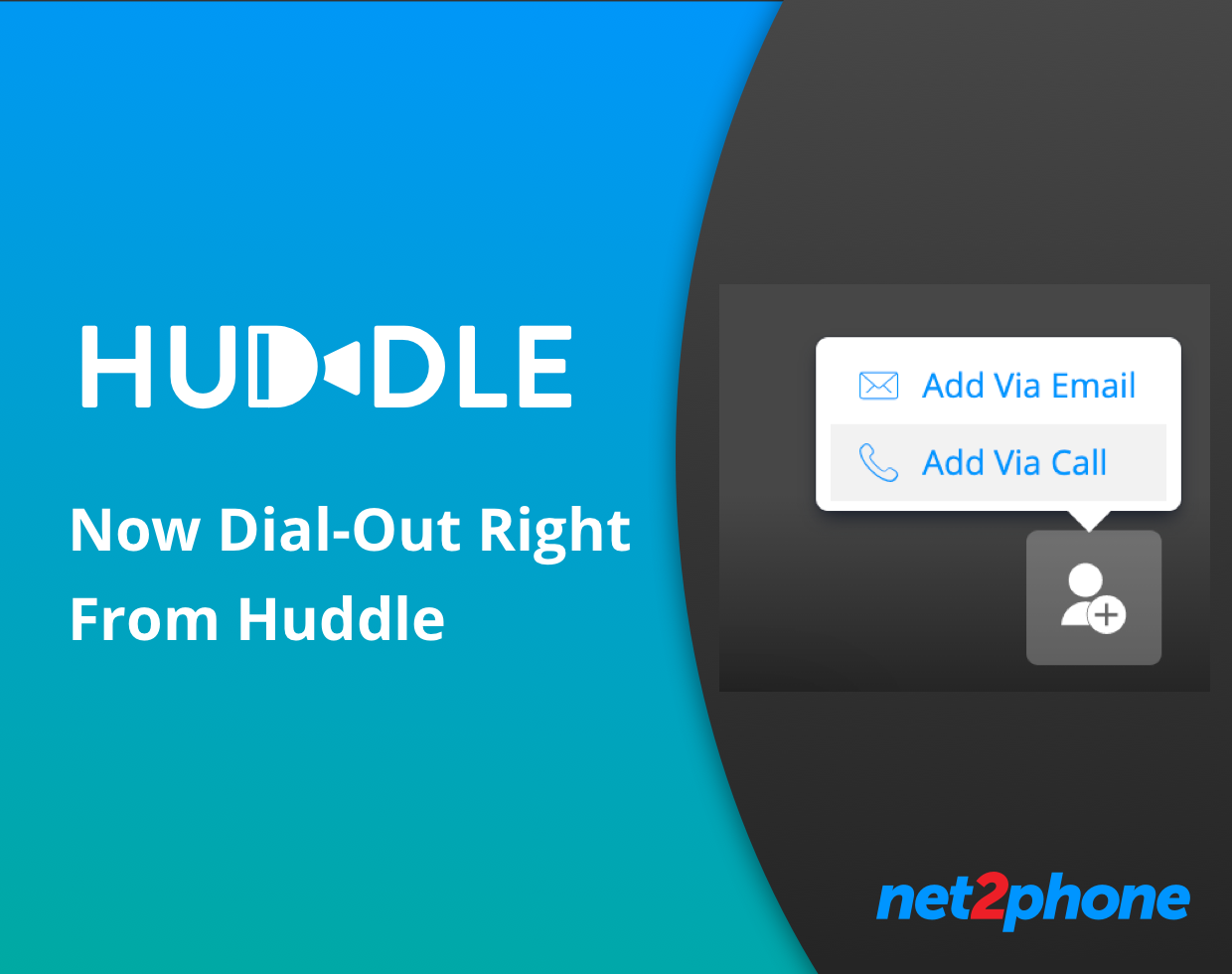 November 25th, 2020
net2phone For Slack
net2phone is making life simpler for Slack users! The net2phone Slack integration allows you to access net2phone capabilities natively inside of Slack. You can do a variety of things such as make calls, start up new Huddles, call forwarding, manage workflows and more!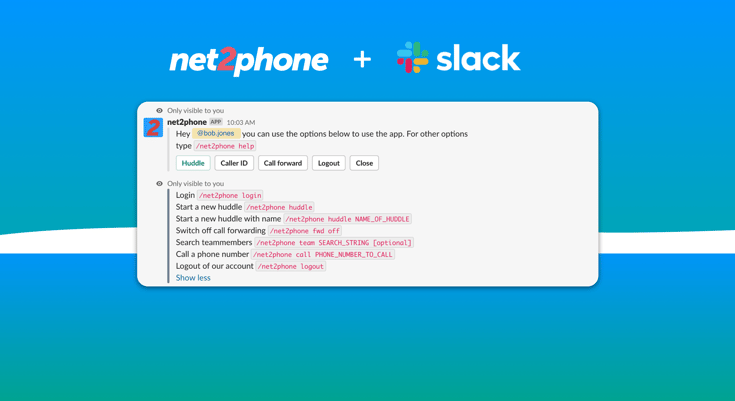 November 17th, 2020
YouTube Live Streaming on net2phone Huddle
We are excited to announce our brand new Huddle Live streaming feature! You now have the ability to live stream your Huddle meetings out to thousands of people at once via YouTube. This means you can now do things like create webinars, host larger events, and broadcast to larger audiences all by using net2phone Huddle.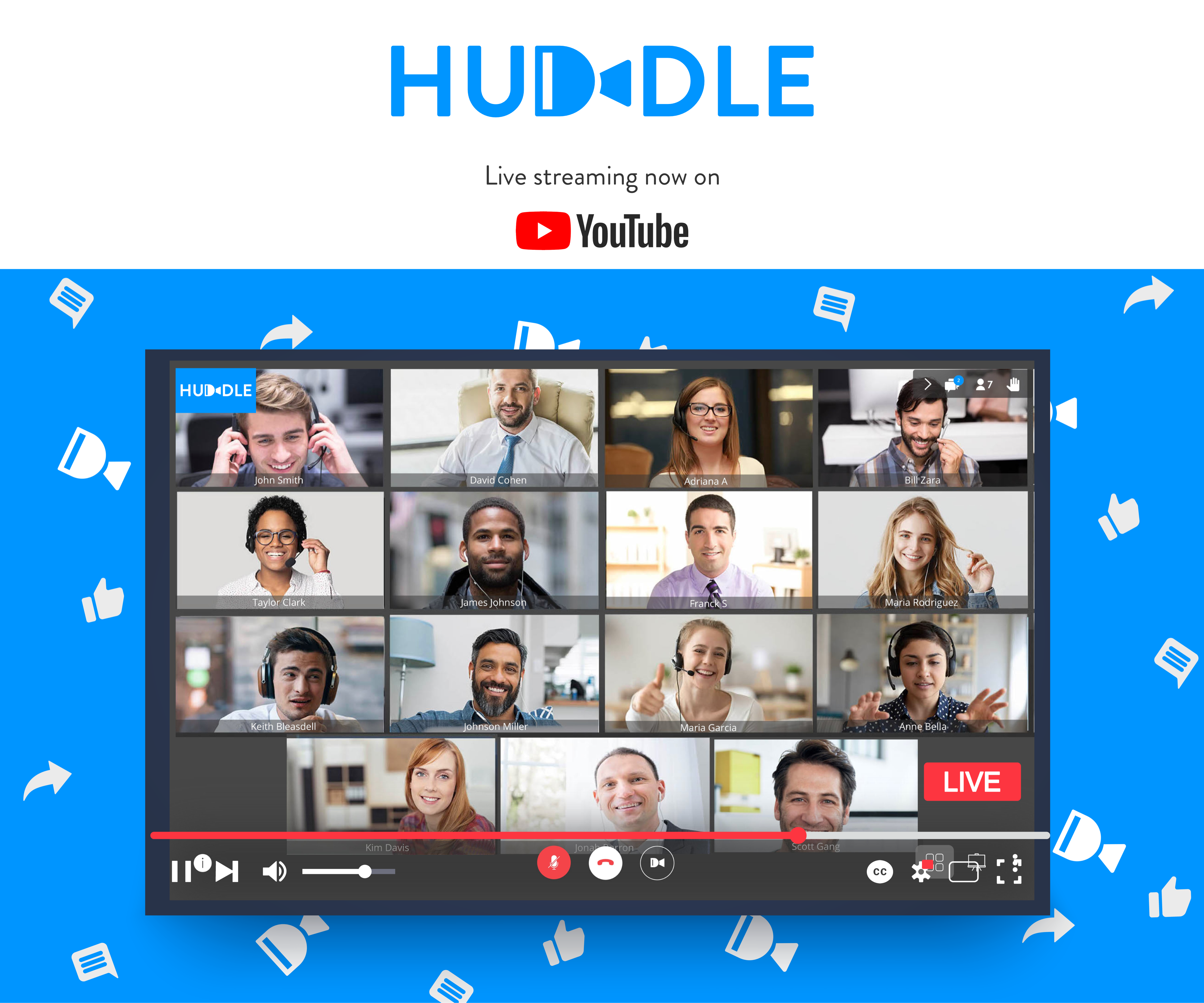 To access YouTube Live Stream, simply go into the "more actions" tab by selecting the three vertical dots in the bottom right-hand corner and click on the "Start live stream" option.

Please note that you will first have to get approval from YouTube to go live, which could take up to 24 hours. Once you are approved, they will provide you with a live stream key that you will use to go live through net2phone Huddle.
October 30th, 2020
Huddle Lobby Preview Screen
This new Huddle Lobby preview screen allows users to preview their camera before entering into a Huddle meeting. Users can also choose to adjust the microphone and camera settings by turning their sound off mute and or by turning their camera on prior to the meeting.
October 29th, 2020
eFax Encryption
Encrypted eFax enables inbound/outbound faxes to be encrypted to/from our server. eFax Encryption is encrypted directly at the number source, so rest assured that all inbound and outbound eFaxes will be properly encrypted for you and your clients' protection. This net2phone eFax encryption option provides an additional layer of security for fax communications by concealing personal and private information.
October 19th, 2020
Bulk Download Call Recordings & Voicemails
Now you have to ability to download all of your call recordings and voicemails in bulk within the Call History tab of your net2phone account! Simply hit the select button, then select the number of recordings or voicemails you want to download, and then click the download button.
Once your downloads are complete, you will receive an email with all of your requested recordings.
Call History Filtering Options
You can now filter your calls by time zone, time, type of call, and department. Looking to locate a specific call? No problem- this filter will help you find exactly what you are looking for in a more efficient way.
New Incoming Call Prompt
We have updated the incoming call prompt, and it no longer takes over the entire screen when a call comes in. We redesigned things with a cleaner look that provides helpful information without taking up any unnecessary screen real estate.
Call History Refresh
We have added a new Refresh button to the top of your Call History screen so you can quickly and easily refresh the page to keep your call reports updated with the latest calls, voicemails, and recordings.
October 8th, 2020
The net2phone CallMe Feature
Get the most out of your Business Phone System with the net2phone CallMe feature. Give your customers the ability to text you and receive a callback when an agent is available to assist. It's as simple as:
Customer texts your teams to request a callback rather than waiting on hold.
A Callback request goes into the queue until it reaches an available agent.
When an agent becomes available a callback is made to the requesting customer.
September 28th, 2020
The net2phone Business Phone Systems Zoho Integration
With the net2phone Zoho integration, experience seamless click-to-calls, log calls automatically, write notes directly into the in-call prompt, and much more all while staying connected in Zoho-- a complete unified communication toolset.
Click below to watch a short video on integrating your Zoho Account with net2phone:
August 27th, 2020
User Voicemail-To-Email Controls
Now you have the ability to control the content that is coming into your email from the audio or transcription. Choose if you would like to include audio file attachments, audio transcriptions, and or additional caller details within your voicemail to email notifications.
Now all call recordings are encrypted for an extra layer of protection.
Complete Admin Control
Admins can choose if they would like to enable or disable these voicemail-to-email notifications for all team members. They also have the ability to restrict team members from being able to make changes to these settings. These new settings can help make sure you and your team are protecting your customers' personal information.
August 24th, 2020
net2phone Huddle for Microsoft Calendar
Huddle is now fully compatible with Microsoft Calendar. Seamlessly connect your Microsoft Calendar from the settings section of your net2phone Huddle account.
Simply sign in with your Microsoft credentials and then give net2phone Huddle permission to access your profile and calendar.
"Your Meetings"
Under the "Your Meetings" section of your Huddle Lobby, you will be able to view all of your recurring Huddle video meetings. Click to add new meetings with the plus button and stay organized within your Huddle Lobby.
July 1st, 2020
Complete Integration of Google Calendar within the net2phone Huddle Lobby
Huddle is now further integrated within Google calendars. Now you will be able to see ALL of your scheduled meetings on huddle.net2phone.com, not just the ones you created and not just the ones with a Huddle link, but ALL of your calendar meetings. We have the addition of two additional tabs, "Scheduled Meetings" and "Your Meetings." For a video tutorial on linking your Google Calendar to your net2phone Huddle Lobby please click here.
"Scheduled Meetings"
Now you can see all of your scheduled meets within your Huddle Lobby. This means you will be able to see both meetings have been scheduled with net2phone Huddle and also meetings that have been scheduled using an alternative video conferencing platform! This new feature will help you stay on top of all your appointments, so you are sure not to miss any meetings.
"Your Meetings"
Under the "Your Meetings" section of your Huddle Lobby, you will be able to view all of your recurring Huddle video meetings. Click to add new meetings with the plus button and stay organized within your Huddle Lobby.
June 18th, 2020
Improved Screen Sharing Within Huddle
Our team has improved the quality of screen sharing within your Huddle video conferences. The overall performance has been improved to enhance your video conferencing experience.
Advanced Language Translations
Huddle is now completely compatible in both Spanish and Portuguese, by having full translations in both languages throughout Huddle.
Improved Dial-ins
You can now dial-in directly via your Huddle phone app and wait till someone else join via web/ app or phone.
June 8th, 2020
Huddle for Google Calendar
net2phone is excited to announce: net2phone Huddle for Google Calendar integration. Now you can schedule your Huddle video meetings using your Google Calendar for seamless video conference scheduling.
Click below for a short video on how you can integrate your Google Calendar with net2phone Huddle:
Message Improvements
New browser notifications are provided for all claimed and unclaimed messages.
May 11th, 2020
Call History: CSV Download Enhancements
Now when you download the CSV from your Call History section, you will see additional caller information provided. New call intel on where calls are filtering from, whether it be, Welcome Menus, Ring Groups, and Departments are all now included in the downloadable form.