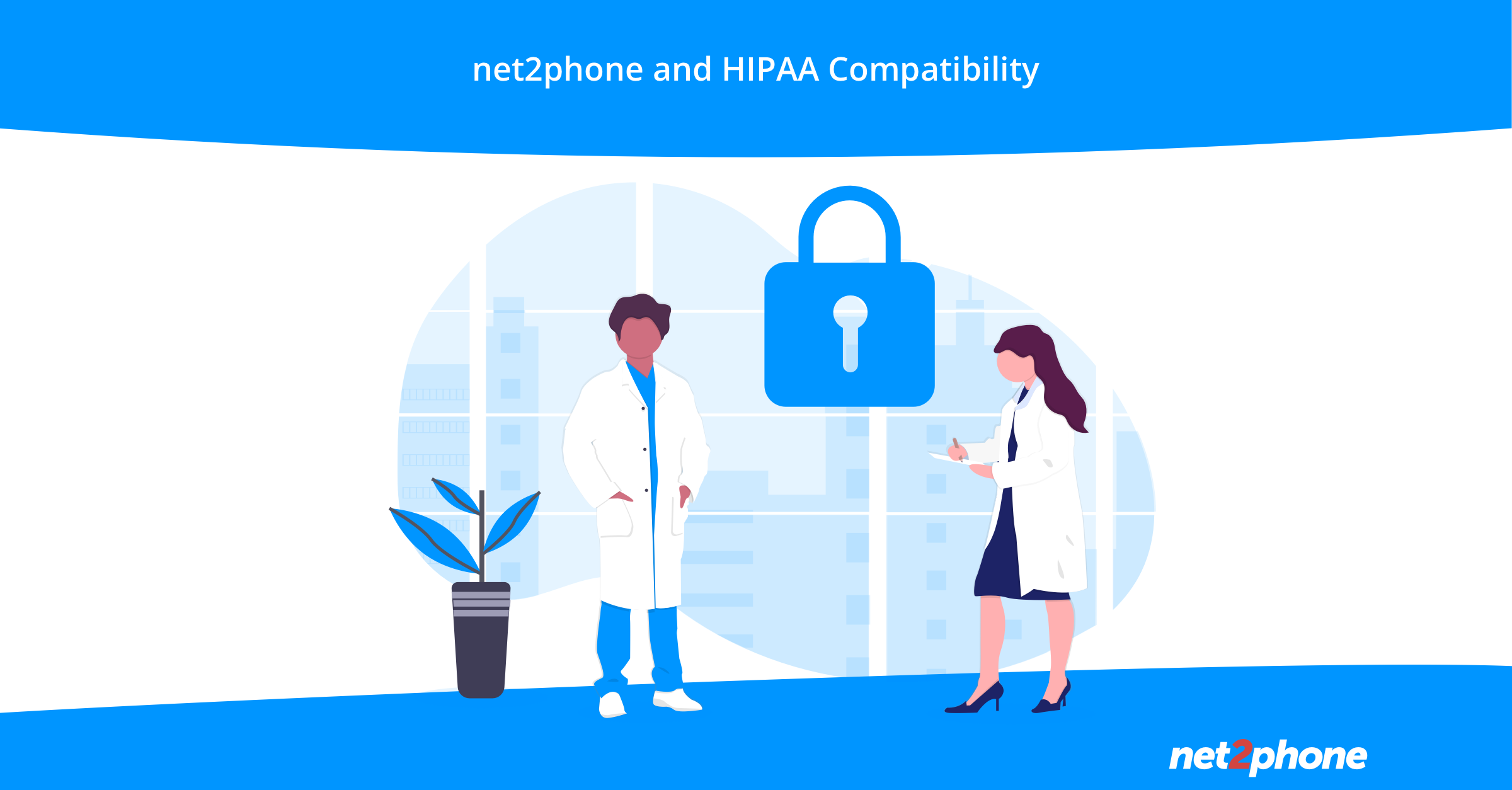 Data privacy has become a substantial concern as of late and it is critically important that companies continue their efforts to safeguard customer information. Thanks to the ever-connected nature of the world in which we live, data has never been a bigger attempted target of unauthorized access and theft.
Here at net2phone, we take our responsibilities regarding customer data extremely seriously which is why we launched a HIPAA compliance program for select net2phone communications and collaboration solutions.
What is HIPAA?
HIPAA - The Health Insurance Portability and Accountability Act of 1996– is a federal law that led to the creation of national standards to protect sensitive patient health information from being used or disclosed for impermissible purposes.
HIPAA standardized the rules for the safe and secure collection and storage of sensitive patient data across a range of electronic communication types.
HIPAA covers all "Protected Health Information" held by most healthcare providers, including:
Name, address, date of birth, and social security number
Physical or mental health conditions
Any care provided to an individual
Payment and billing information
Not only does this mean healthcare providers themselves must comply with the regulations, but they also should work with communications suppliers that are HIPAA compatible in order to safeguard sensitive patient data. This means people working in the healthcare sector must be incredibly selective when choosing communication providers.
Why net2phone for Healthcare VOIP
As a veteran of the industry, net2phone knows and understands the needs of its partners in the healthcare industry and has launched its own HIPAA compliance program. net2phone can now sign HIPAA business associate agreements (BAA) for healthcare and medical providers so that businesses can leverage net2phone's HIPAA-eligible services.
net2hone's Hosted PBX calling solution is now available with call recording, voicemail, and voicemail transcription HIPAA-ready features, which means you don't need to sacrifice functionality.
In addition, net2phone's cloud-based solutions include such powerful tools as:
UNLIMITED domestic calling
UNLIMITED international calling to 40 popular international destinations
Feature-rich functionality and versatility including customized auto-attendants, call recording, advanced call routing, voicemail to email, web-based calling, and live chat
Mobile Application for iOS and Android to continue business conversations in, or out of the office
Integrations with popular applications including Microsoft Teams, Zoho, and Salesforce, and
Custom API integration capabilities.
HIPAA Compatible
With HIPAA-compatible technology at your fingertips, and with digital communications being ever more critical to healthcare provision in the era of COVID, net2phone is on hand to help your organization with your communications needs.
Get in touch with one of our unified communications experts today for more information.