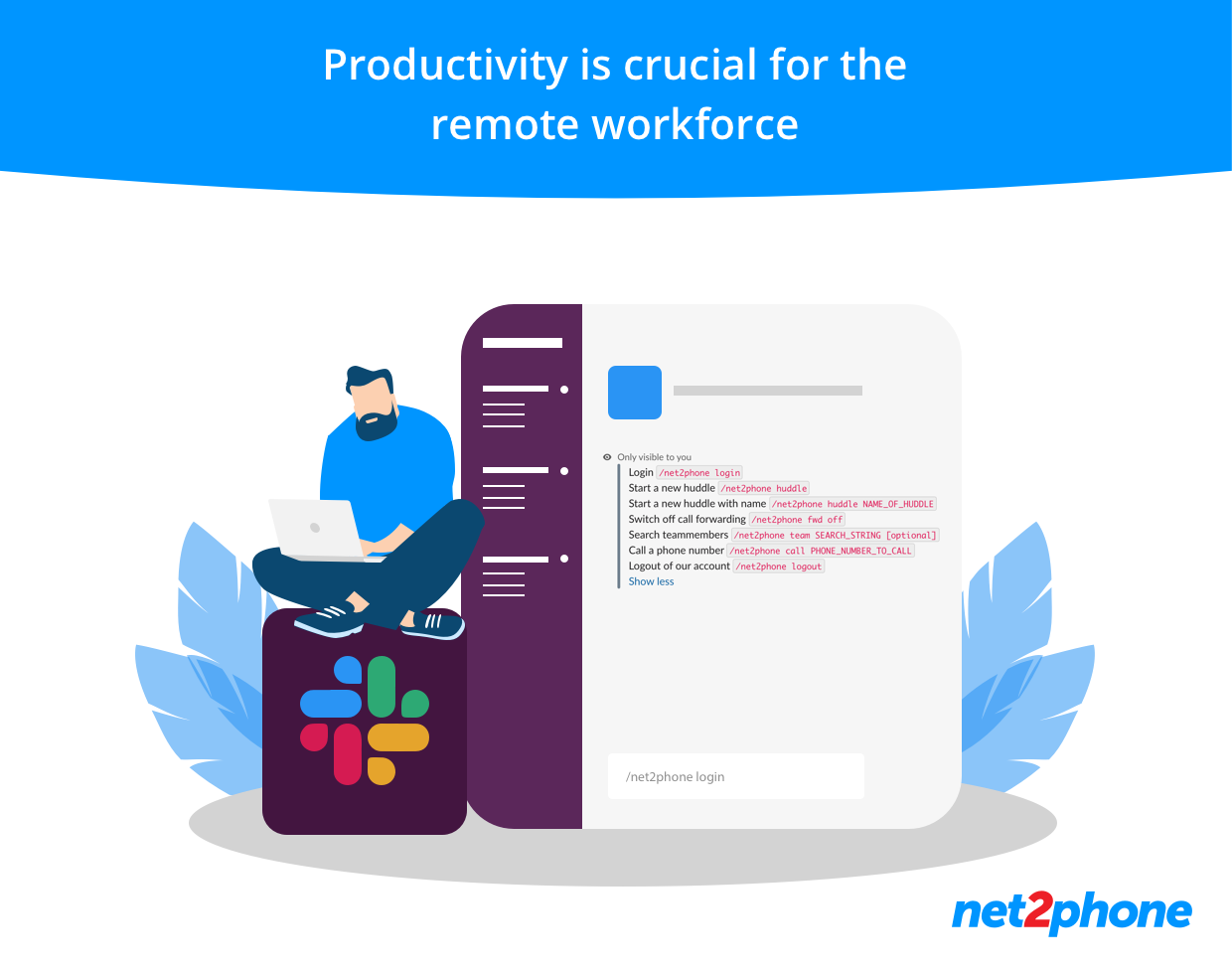 Cloud-based collaboration, productivity and CRM tools like Slack, Microsoft Teams, Zoho and Salesforce have never been more important than during these past six months or more of the COVID-19 emergency. As millions of workers shifted to remote working pretty much overnight, and businesses increased their reliance on digital, these tools have been instrumental in the survival of many organizations. We know. net2phone had to adjust too.
Equally as important have been the business phone systems companies rely on. For those still with a traditional on-site PBX, the transition to a remote workforce has proven extremely difficult. These companies have faced immense troubles keeping employees connected – both with each other, and with customers – and integrating the system with productivity and CRM tools for the remote workforce is nigh-on impossible.
Companies that have a modern cloud-based business phone system, on the other hand, have been able to make the switch to remote working with ease. Employees can simply plug in their handsets at home, or otherwise use their computers or smartphones with an integrated mobile app to stay connected. For these companies, incoming and outgoing calls have continued as if every staff member was still at the office.
Another key advantage of cloud PBX business phone systems is that they integrate seamlessly with the software tools remote workers increasingly rely upon. Paid customer growth at Slack has accelerated during the crisis – as has the number of users on the free plan – as demand for remote work communication tools has soared. Similarly, Microsoft Teams has just passed 115 million daily active users (DAUs) – up 53% from 75 million in April (and just 13 million in July last year).
(Image source: statista.com)
Having a phone system that integrates seamlessly with business software solutions like these is crucial for remote workforce productivity – and with net2phone's advanced cloud-based solution, integration with crucial business apps and software tools is easy.
Slack Integration
net2phone's Slack integration enables your remote teams to collaborate and communicate where it's most convenient – right within Slack itself. Get call notifications and launch the net2phone video conferencing tool Huddle, set up call forwarding, manage workflows, keep track of missed calls, manage voicemail, and more – all from Slack.
Microsoft Teams Integration
As the stats show, adoption of Microsoft Teams has massively accelerated in reaction to the COVID-19 pandemic to facilitate better collaboration across the dispersed workforce. With net2phone's Microsoft Teams integration, your team members can initiate calls to their contacts, numbers or to extensions from within the Microsoft Teams environment.
Zoho Integration
With the net2phone Zoho integration, employees can answer inbound calls and make outbound calls with a single click right from the Zoho interface. All contact information is displayed to your agents, who can add follow up actions, set reminders, update account records, and capture important details while on the call.
net2phone makes having smarter conversations easier. Find out how you can too.