Top Benefits of a Cloud Contact Center
The cloud contact center market is growing. Valued at $13.67 billion in 2019, the market is expected to reach $44.86 billion by 2025, at a CAGR of 23.11% over the forecast period (2020-2025).
While this expected surge is of course due partly because of the ongoing COVID-19 emergency – cloud-based call centers allow agents to work from home and practice social distancing – the truth is that even before the pandemic took hold, the shift to the cloud was already well underway having been identified as delivering huge benefits for companies.
The Deloitte 2019 Global Contact Center Survey found that well over half of firms (55%) had either already moved their contact center to the cloud or were actively trying to migrate over the next two years.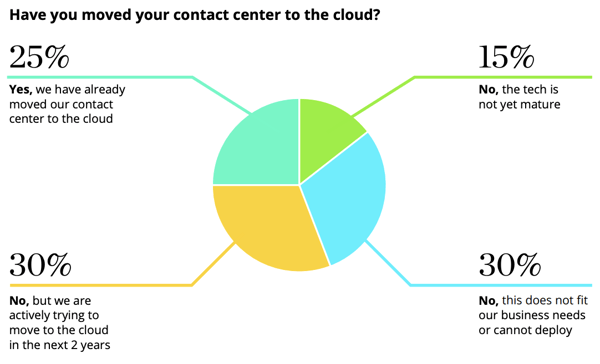 Organizations Report Five Key Benefits of Shifting to a Cloud Contact Center
Organizations report numerous benefits of moving to their call center to the cloud, according to an IDC white paper, including improved customer experience, enhanced agent efficiency, and the ability to scale up and down with evolving business needs.
Specifically, among those surveyed, the report found five key benefits of moving from an on-premises deployment to the cloud:
Improved customer service –72%
Adding new social media features, chatbots, and other tools for customer interaction –75%
Better agent efficiency and productivity – more than 70%
Improved scalability for business needs – 71%
The ability to move from a CapEx to OpEx model – more than 66%
"A remarkable percentage of those surveyed already have or are planning to implement cloud-based solutions, for a wide variety of reasons and associated benefits that a cloud-based contact center environment enables," said Mary Wardley, IDC Vice President of CRM Applications. "As more organizations deploy cloud solutions, the sector will undergo a worldwide revolution in the way consumers are able to interact with companies and how employees work."
Unified Communications Improve Agent Productivity
Further benefits of cloud contact center adoption are found in the unified communications (UC) functionality hosted solutions offer.
Aberdeen's January 2020 The ROI of Uniting Unified Communications and Contact Center study shows that UC-enabled contact centers enjoy a 50% greater annual increase in agent productivity, as well as huge improvements in average call handle times, resulting in greater customer lifetime value and a decrease in the number of customer complaints.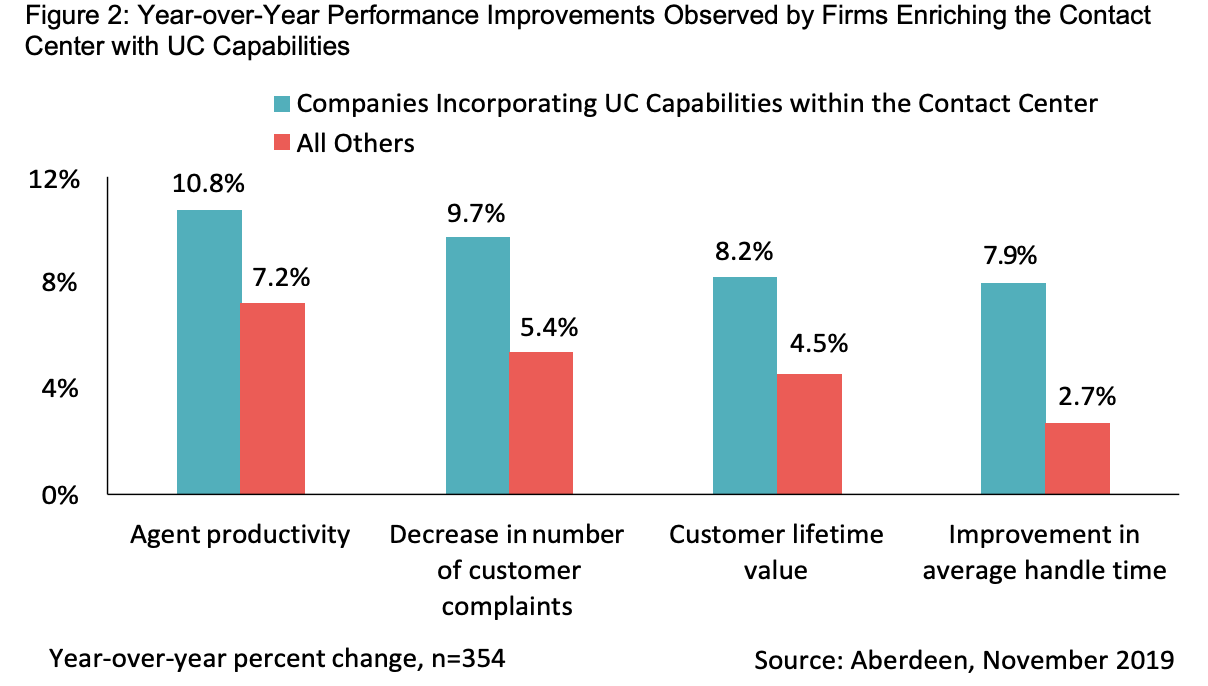 Deloitte's Global Contact Center Survey found improving customer experience (85%) and customer service (78%) were the top two drivers of investment – making both strategic differentiators.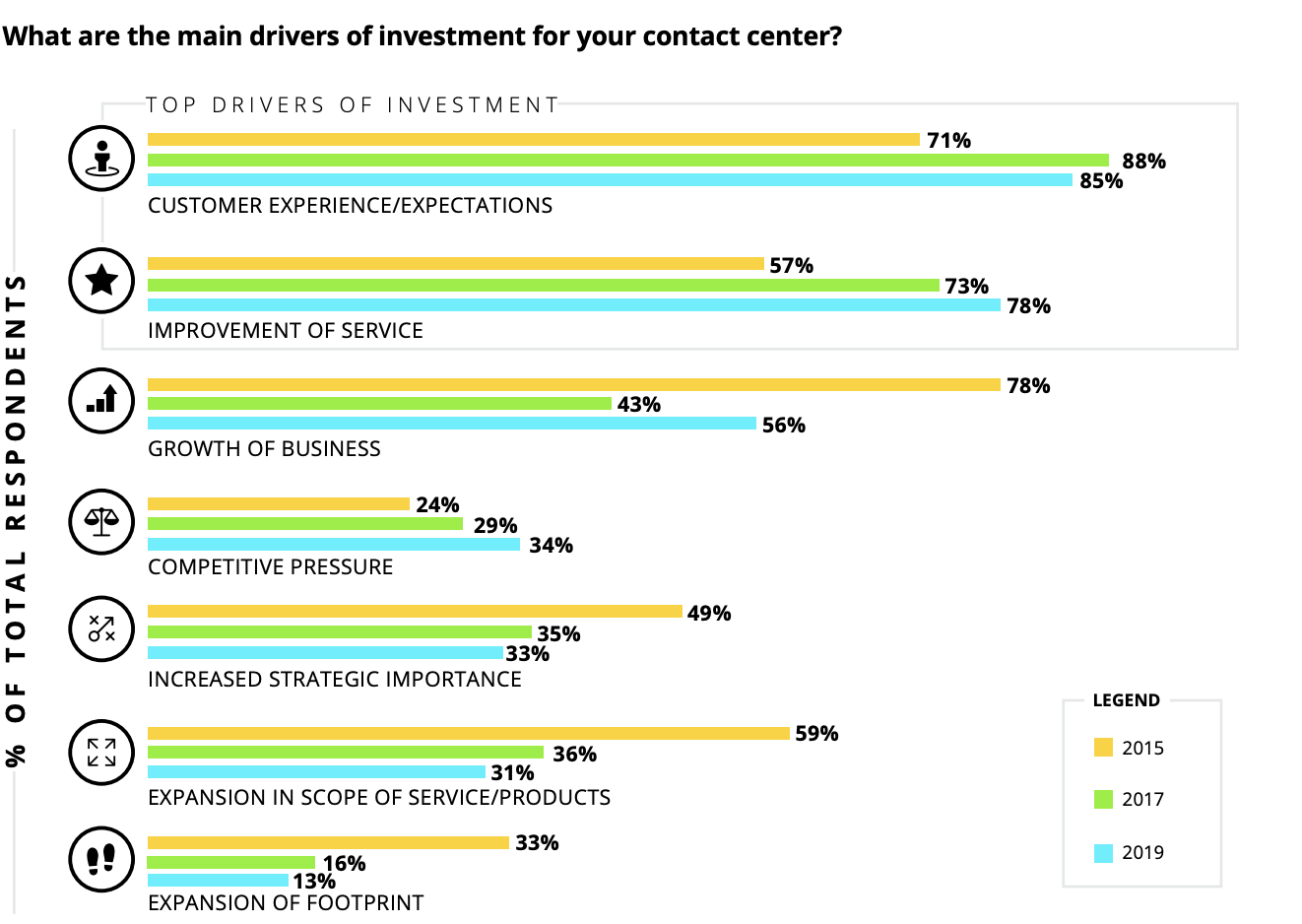 Businesses still running on legacy call center technology find it difficult if not impossible to add new channels such as SMS, MMS, live chat and video conferencing – channels that today's customers crave. Even updating the phone menu can be a difficult process.
With a cloud-based contact center solution, on the other hand, you can add as many modern channels and features as you like through the use application programming interfaces (APIs).
No matter if your customers are looking for support or want to place an order – and regardless of whether they contact your business by phone, live chat, social media, email, or any other channel – they expect to connect with an agent who can help them right away. With APIs, your cloud contact center can integrate with hundreds of popular apps and call center software platforms, so you can create a seamless omnichannel experience for every single customer.
Interested in still learning about cloud contact centers? Check out these resources:
Cloud Contact Solutions Enable Customer Communications Continuity
Enhancing Business Phone Systems with Cloud PBX and Contact Center Solutions